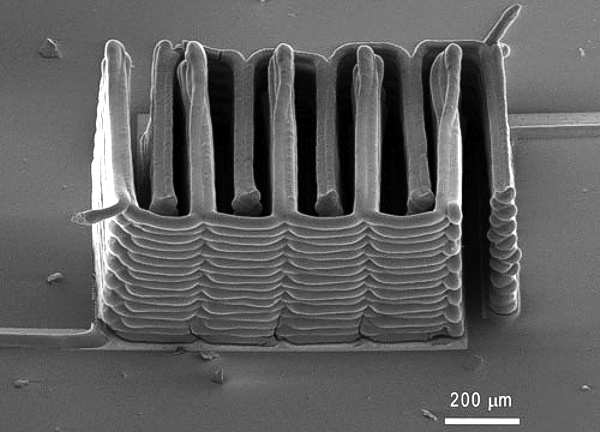 Researchers at Harvard University and the University of Illinois at Urbana-Champaign have created and tested 3D printing inks that are electrochemically active, and with which microbatteries can be fabricated.
The ink for the anode incorporates nanoparticles of one lithium metal oxide compound, while the ink for the cathode has another type of nanoparticles. A 3D printer laid the ink onto the teeth of two gold combs to create tightly interlaced stack of anodes and cathodes. The whole setup gets packaged into a tiny container and filled with an electrolyte solution to complete the battery.
Harvard engineering professor Jennifer Lewis said: "Not only did we demonstrate for the first time that we can 3D-print a battery; we demonstrated it in the most rigorous way." Lewis is the senior author of a study on the batteries published online in the journal Advanced Materials. The researchers say their tiny batteries have electrochemical performance is comparable to commercial batteries in terms of charge and discharge rate.