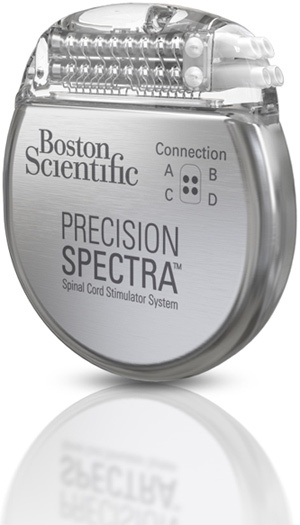 Boston Scientific received FDA approval and is beginning a limited launch of the Precision Spectra Spinal Cord Stimulator (SCS) System.  According to the press release:
"The Precision Spectra System is the world's first and only SCS system with Illumina 3D™ software and 32 contacts, and is designed to provide improved pain relief to a wide range of patients who suffer from chronic pain. Boston Scientific, the United States market leader in rechargeable SCS devices exiting 2012, is introducing the system at the annual meeting of the American Academy of Pain Medicine in Fort Lauderdale, Florida. Images of the Precision Spectra System can be downloaded here.
More than 100 million Americans suffer from chronic pain. Living in constant pain for an extended period of time can have a devastating impact on quality of life for many patients. Without relief, or the hope for relief, many patients lose the ability to sleep, work and function normally.