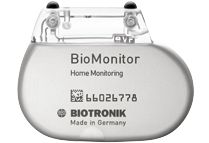 Biotronik announced the European market release of BioMonitor®, an implantable cardiac device designed for the highly accurate and reliable monitoring and management of patients with atrial fibrillation (AF) or unexplained syncope.
According to Biotronik's press release:
"BioMonitor® is a subcutaneous implantable leadless cardiac monitor for the long-term continuous remote monitoring of patients with arrhythmias such as AF, bradycardia, sudden rate drop, asystole and tachycardia.
As sensitivity and specificity are essential in the detection of arrhythmias such as AF, BIOTRONIK has developed ClearSense Technology with a unique three-vector signal detection that produces highly precise and reliable arrhythmia monitoring.