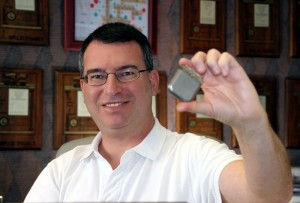 David Prutchi has over twenty years of experience in Biomedical R&D, Medical Electronic Instrumentation Design and Management. He is versed in design for compliance with U.S. and International regulations and directives regarding medical electronic devices. His experience includes the definition and design of active implantable medical devices, the development of physiological signal acquisition and processing instruments, biomedical sensors and micropower analog and mixed-mode electronics. He has strong background in Physiology, and is knowledgeable in methods, procedures and management for in-vitro and in-vivo experimentation. Dr. Prutchi's experience in management encompasses the leading of interdisciplinary engineering teams all the way from basic research, through conceptual prototyping, and transition into production.
He received the EE Exact Sciences B.Sc. and the M.Sc. and Ph.D. degrees in Biomedical Engineering from Tel-Aviv University in 1987, 1989 and 1993, respectively. Between 1986 and 1993 he worked as Research Engineer at the Biomechanics Research Facility in Tel-Aviv. In cooperation with the Israeli Ministry of Defense and the Israel Air Force he developed instrumentation for contact-stress analysis, myo- and neuro-electric signal acquisition and processing, as well as systems for in-flight physiological stress assessment. During 1993 he conducted Post-Doctoral research at Washington University in St. Louis. In addition, between 1989 and 1993 he lectured the graduate course "Neuroelectric Systems" at Tel-Aviv University and at Washington University.
In 1994 Dr. Prutchi joined Sulzer-Intermedics Inc. (Angleton, TX) where he was responsible for Bradycardia Advanced Technology Development and led the design and development of Intermedics' next-generation implantable cardiac pacemaker.  In early 1998, Dr. Prutchi joined Prof. Shlomo Ben-Haim at Impulse Dynamics. He is currently the Vice President of Product Development at Impulse Dynamics and at MetaCure, and the CTO for MediSpot.
Dr. Prutchi is a member of the IEEE, the Association for the Advancement of Medical Instrumentation and an active amateur-radio operator (N2QG, HC1DT). He has over thirty publications, including papers in refereed professional journals, various conference proceedings, as well as several technical magazine articles and major research reports presented to government and military agencies. David is the lead author of the book "Design and Development of Medical Electronic Instrumentation – A Practical Perspective of the Design, Construction and Test of Medical Devices" published by John Wiley & Sons (2004), and the co-author of the experimental quantum mechanics book "Exploring Quantum Physics Through Hands-On Projects." He has published over thirty papers and holds close to seventy patents in the field of active implantable medical devices.