InnerPulse was founded in Raleigh, North Carolina, in 2003 to develop an intravascular defibrillator placed completely within the vasculature.
The idea was that unlike typical CRM devices, the InnerPulse fully intravascular defibrillator (PICD™) technology would be implanted percutaneously utilizing a catheter-based procedure. Additionally, the implant procedure would be familiar to both electrophysiologists (who currently implant the majority of CRM devices) and other implanting cardiologists, and was thought to have significantly lower infection rates than surgical procedures. The intravascular device was also touted by InnerPulse as having potential reliability advantages, including the virtual elimination of performance issues associated with cardiac leads and device headers. In addition, because the IID does not require a surgical pocket, patients would benefit through lower post-procedure discomfort and improved cosmesis. In the end, the device would be imperceptible to the patient and will address known barriers to patient acceptance of an implanted device.
By 2008, backed with $85M by Industry giants such as Johnson & Johnson Development Corporation, Medtronic, Inc., Synergy Life Science Partners, Ascent Biomedical Ventures, Delphi Ventures, Frazier Heathcare Ventures, Boston Scientific, and Greatbatch, Inc. InnerPulse had developed an intravascular, percutaneously placed implantable defibrillator (InnerPulse percutaneous intravascular cardioverter-defibrillator [PICD]) with a right ventricular (RV) single-coil lead and titanium electrodes in the superior vena cava (SVC) and the inferior vena cava (IVC).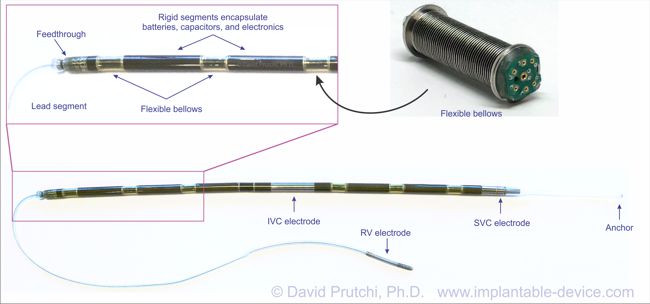 The device itself was a masterpiece of engineering, featuring a completely hermetical but flexible enclosure. The flexible interfaces between the cylindrical segments was provided by titanium bellows with internal flexible wiring. The batteries and defibrillation capacitors were custom-made for this device. Circuitry was all laid-out in flexible boards that would be folded to accommodate the cylindrical geometry.
The PICD's control circuit was powered by a CFx battery, while energy for defibrillation was produced by a stack of two SVO cells.
Tests in human subjects showed similar defibrillation thresholds compared to a standard ICD. In a 10-subject study, PICD DFT was 7.6 ± 3.3 J, and the conventional ICD system demonstrated a mean DFT of 9.5 ± 4.7 J (N = 10; paired t test, P = .28). Unfortunately however, a chronic animal study revealed problems of lead dislodgement, loss of capture, and perforation.
Ultimately, Boston Scientific decided to acquire Cameron's Subcutaneous ICD (S-ICD) and stopped backing InnerPulse. InnerPulse was dissolved after it had no money left for resolving the technical issues and conducting chronic human clinical trials.