Back in August of 2019, Minneapolis-based CVRx received a no-panel FDA approval for its BAROSTIM NEO™ device to treat Heart Failure.  CVRx has now filed documents with the SEC with plans to offer 6.25 million shares of common stock priced between $15 and $17 per share, expecting to yield approximately $91.5 million in the offering.
The BAROSTIM NEO™ implantable pulse generator is implanted below the collar bone and is connected to a lead that attaches to the carotid artery in the neck, targeting its baroreceptors.  The proposed mechanism of action is that the activation of baroreceptors cause the brain to relax the blood vessels and inhibit the production of stress-related hormones to reduce heart failure symptoms.
CVRx's system  is indicated for the improvement of symptoms in patients with advanced heart failure (EF≤35%) who are not suited for treatment with other heart failure devices.
CVRx website:  www.cvrx.com
UPDATE: June 30, 2021, 2:49 pm
Yesterday CVRx upsized its IPO of 7M shares of its common stock at a public offering price of $18 per share.  Trading started today and share price was $27 mid-afternoon.
UPDATE: July 9, 2021, 2:09 pm
A week after IPO CVRx's stock has lost all of its initial gains.  It is now trading around the original offering price of $18.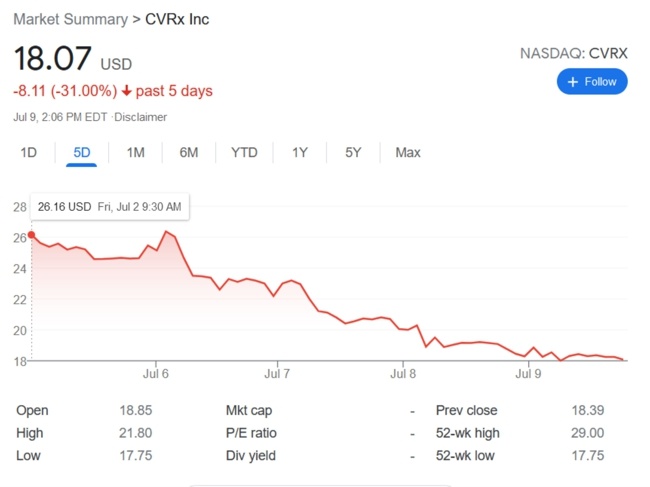 Update December 13, 2021
And CVRx stock keeps on tanking…