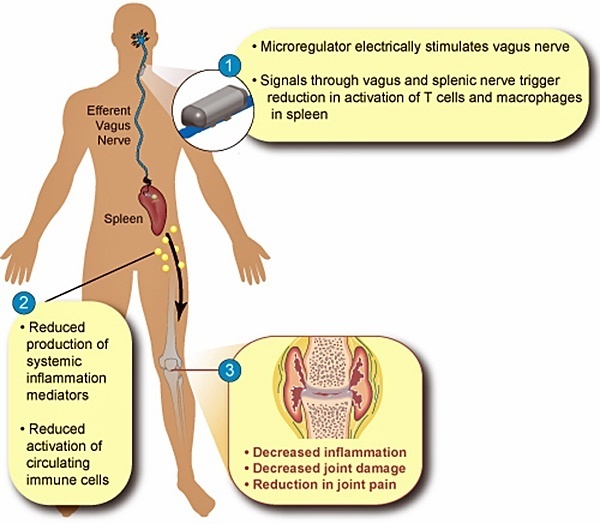 SetPoint Medical, headquartered in Valencia, California, is developing neuromodulation therapies for patients with inflammatory autoimmune diseases, such as rheumatoid arthritis (RA), inflammatory bowel disease (IBD), psoriasis, diabetes, heart disease, and multiple sclerosis.  SetPoint's proprietary neuromodulation platform consists of an implantable "microregulator", wireless charger and iPad prescription pad application.
SetPoint co-founder Kevin Tracey and his colleagues discovered and characterized the Inflammatory Reflex, which is a neurophysiological mechanism that regulates the body's immune system. The Inflammatory Reflex senses infection, tissue injury and inflammation and relays this information to the central nervous system, which then reflexively increases neural signaling peripherally through the vagus nerve and splenic nerve that extensively innervate the spleen and other visceral organs. The signal is transmitted to a novel population of T cells in the spleen, which in turn direct effector cells including monocytes and macrophages to reduce their production of the mediators that initiate and perpetuate inflammation. Dr. Tracey co-founded SetPoint Medical with Dr. Shaw Warren to leverage these discoveries in developing new therapies to treat chronic inflammatory diseases.
SetPoint has completed a first-in-human open-label proof-of-concept trial in rheumatoid arthritis. According to SetPoint, "the study helps validate neuromodulation as a breakthrough approach to treating autoimmune inflammatory diseases. SetPoint's approach is intended to supplement the body's natural Inflammatory Reflex by providing 'built-in' therapy at a lower cost and with improved safety compared with drugs or biologic solutions."
Click here for an interesting paper regarding this technology.