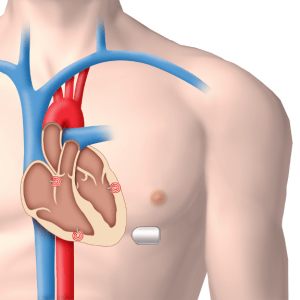 Morgan Technical Ceramics (MTC) announced that its Bedford, Ohio site manufactures the piezoelectric ceramic materials used in EBR Systems, Inc.'s innovative new WiCS® Wireless Cardiac Stimulation System. The PZT (lead zirconate titanate) material made by MTC is critical to the efficiency of the WiCS system, which is powered by a battery with a 10-year lifespan.
The WiCS technology, which recently began clinical trials, is the first truly wireless pacing device. It was developed to eliminate cardiac pacing leads, historically a major source of complications and reliability issues.
"We are extremely proud of our contributions to this new wireless pacing method, which include both innovative materials that optimize system performance and value-added services such as consultation on developing the assemblies for the unit," said Jeff Wright, MTC Bedford's product development manager. "Working collaboratively with the EBR engineering team, we assisted in perfecting the design and helped solve technical processing challenges to develop the final parts."
Piezoelectric components are ideal for use in electromechanical transducers. MTC supplies two key components to the system, a Transmit Transducer Array (TTA) and a Receiver Electrode (RE) subassembly. The RE receives the pulse for the TTA and reacts when necessary to pace the heart. The RE, which is extremely small, can be implanted in the heart via a catheter through an artery. This enables the RE to be implanted in the left side of the heart, which has never before been possible. Due to the challenges and limitations of implanting left heart leads through the coronary sinus, implanting a wireless electrode within the left ventricle provides a solution for many patients who had previously had no available therapy.
Sunnyvale, CA-based EBR System Inc.'s WiCS cardiac stimulation system represents a significant medical breakthrough, eliminating the cardiac pacing lead by stimulating the heart through wireless transmission of energy. The technology has the potential to revolutionize the future of cardiac pacing.