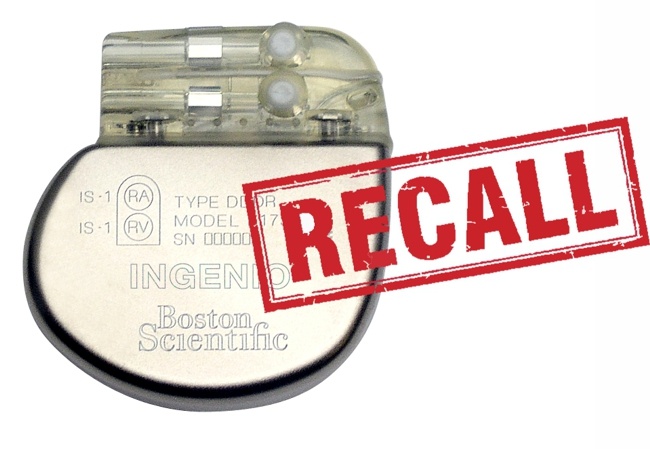 Boston Scientific has recalled approximately 48,000 Ingenio pacemakers and cardiac resynchronization devices distributed between November 2011 and August 2020.  The potentially defective devices, which were manufactured only through December 2018, are no longer available for implant. The recall was initiated on June 3, 2021, and now FDA has identified this as a Class I recall, the most serious type of recall. Use of these devices may cause serious injuries or death.
There have been 65 reported incidents, including three injuries which required patients to receive temporary external pacing. There have been no reports of death.
The issue is that after several years of use, the batteries  reach a high level of internal impedance. At that point, a sudden decrease in battery voltage may occur during telemetry, incorrectly triggering a system reset. If the system resets three times within 48 hours, it's sent into safety mode.  However, in safety mode, there is a risk of inappropriate loss of pacing due to sensing of muscle contractions. If the device goes into safety mode, the device cannot be reprogrammed and must be replaced.
According to FDA, the use of affected product may cause serious adverse health consequences, including early device replacement, loss of pacing or ability to regulate heart rate with serious or life threatening injury (for example, need of temporary pacing where a healthcare provider delivers controlled electric pulses to pace a heart), worsening of heart failure and death.