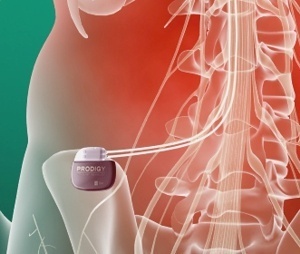 St. Jude announced today that it has initiated a clinical study of the Prodigy™ neurostimulator, which is the first SCS system able to deliver a proprietary mode of stimulation therapy called burst stimulation.
The purpose of the SUNBURST™ (Success Using Neuromodulation with BURST) study is to evaluate whether burst stimulation can be more effective in managing chronic pain than traditional tonic stimulation.
According to the press release:
"Severe chronic pain has a debilitating effect on patients' lives," said Dr. Timothy Deer, an interventional pain physician, and president and chief executive officer of the Center for Pain Relief in Charleston, W. Va. "Burst stimulation may provide us with a comprehensive approach to managing patients whose pain is not adequately controlled with tonic spinal cord stimulation alone, or for those who lose therapeutic benefit over time. Importantly, we hope to demonstrate that burst stimulation produces paresthesia-free pain relief which may make it ideal for those who can't tolerate traditional stimulation."

The SUNBURST study is a randomized, prospective, multicenter, clinical study designed to demonstrate the safety and efficacy of the Prodigy neurostimulation system using tonic and burst stimulation therapy to manage patients with chronic intractable pain. A maximum of 442 patients will be enrolled at up to 50 sites in the U.S.

"The Prodigy spinal cord stimulation system with burst stimulation technology represents an important advancement in neurostimulation therapy," said Dr. Mark D. Carlson, chief medical officer and vice president of global clinical affairs for St. Jude Medical. "We are excited to be leading the effort through the SUNBURST study to bring this novel stimulation mode to market, offering physicians a new alternative to manage patients suffering from severe chronic pain."

The Prodigy neurostimulator is a new investigational device with an expected 10-year battery life that requires recharging approximately once a week. The neurostimulator is designed to deliver both tonic and burst stimulation which may be able to address pain not fully managed by tonic stimulation alone.

The SUNBURST study is being conducted under an Investigational Device Exemption (IDE) from the U.S. Food and Drug Administration (FDA). The Prodigy neurostimulator is not approved for use in the U.S.