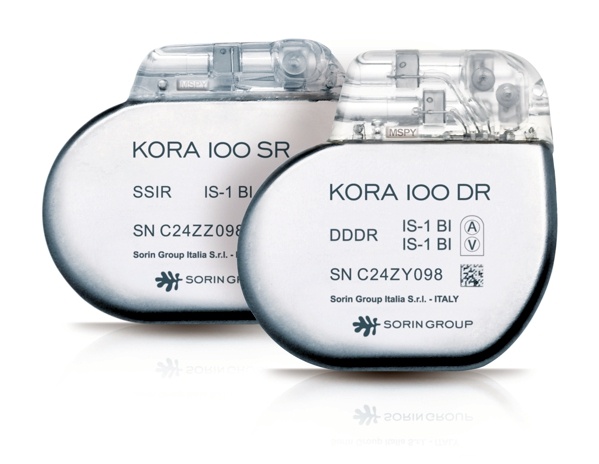 Sorin announced the CE Mark approval and first implant of its KORA 100 pacing system.
According to the press release:
KORA 100 SR and DR pacemakers when implanted with the Sorin BEFLEX pacing lead enable implanted patients to undergo magnetic resonance imaging (MRI) safely.[1] Pacemaker patients are typically older than 65 years. This patient population is prone to other medical conditions such as arthritis, cancer or stroke that may require MRI examinations for optimal diagnosis and management.

The KORA 100 pacing system has been designed with both patients and physicians in mind. Device settings which allow safe operation during an MRI examination are automatically enabled when KORA 100 pacemakers detect the scanner's magnetic field. Similarly the devices sense when a patient leaves the MRI field, and return to normal operation within five minutes. The Automatic MRI Mode feature, which is patented and available exclusively on Sorin Group pacemakers, limits the amount of time that KORA 100 pacemakers operate in MRI mode.

Dr. Christian Wollmann, cardiologist at Landesklinikum St. Pölten, Austria, implanted the first KORA 100 in a 79-year old man. Dr. Harald Mayr, head of the Cardiology department at St. Pölten, commented: "The KORA 100 pacing system with the Automatic MRI Mode provides benefits to our patients, the cardiology practice, and to my colleagues in radiology. Because the pacemaker only operates in MRI mode during the actual MRI procedure, I can be more flexible in scheduling my pre-MRI visits. Since the pacemaker automatically switches back to the pre-programmed settings without further intervention, the radiologists can be confident about patient safety after the imaging procedure."

The KORA 100 pacing system features proprietary Sorin Group technologies designed to help physicians manage common cardiovascular co-morbidities such as sleep apnea, atrial fibrillation and heart failure. The SafeRTM [2] pacing mode has been clinically proven to nearly eliminate deleterious left ventricular pacing thus reducing the risk of atrial fibrillation. The recently introduced Sleep Apnea Monitoring (SAM) function, is a clinically validated, easy-to-use diagnostic algorithm designed to screen and monitor severe sleep apnea, a significant co-morbidity related to heart failure.

"The KORA 100 with Sorin's proprietary SafeR algorithm, Sleep Apnea monitoring, and the patented Automatic MRI mode is the clear gold standard in pacing technology today. We are very proud to launch this latest innovative technology from Sorin Group, said Stefano Di Lullo, Sorin Group, President CRM Business Unit.