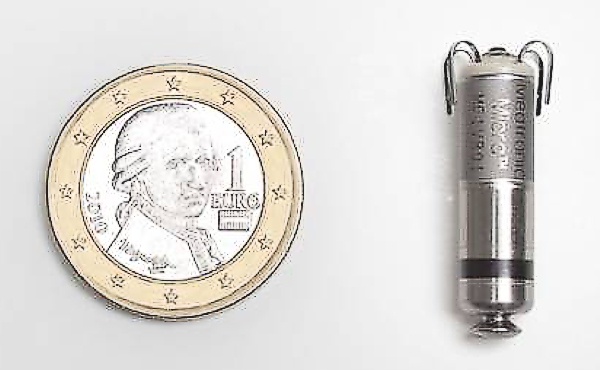 According to the press release:
At one-tenth the size of a conventional pacemaker, and comparable in size to a large vitamin, the Micra TPS is delivered directly into the heart through a catheter inserted in the femoral vein. Once positioned, the pacemaker is securely attached to the heart wall and can be repositioned if needed. The miniature device does not require the use of wires, known as "leads," to connect to the heart. Attached to the heart via small tines, the pacemaker delivers electrical impulses that pace the heart through an electrode at the end of the device.

"Because of its small size and unique design, the Micra TPS can be introduced directly into the heart via a minimally invasive procedure, without the need for leads," said Clemens Steinwender, M.D., head of cardiology at the Linz General Hospital in Linz, Austria. "The combination of this novel technology with a transcatheter procedure can benefit patients by potentially reducing pocket or lead complications and recovery times observed with traditional surgical pacemaker implants."

In contrast to current pacemaker implant procedures, the Micra TPS implant does not require a surgical incision in the chest and the creation of a "pocket" under the skin. This eliminates a potential source of device-related complications, and any visible sign of the device.

"Micra TPS is an example of the significant investment we have made in disruptive technology, specifically the miniaturization of implantable cardiac devices," said Pat Mackin, president of the Cardiac Rhythm Disease Management business and senior vice president at Medtronic. "Less invasive, miniature device technologies show strong promise in improving patient outcomes and implant procedure efficiency. Through our global Micra TPS clinical trial, we intend to generate robust evidence of these benefits to patients and clinicians throughout the world."

Micra TPS Study Design

The study is a single-arm, multi-center global clinical trial that will enroll up to 780 patients at approximately 50 centers. Initial results from the first 60 patients, followed up to three months, are expected in the second half of 2014.