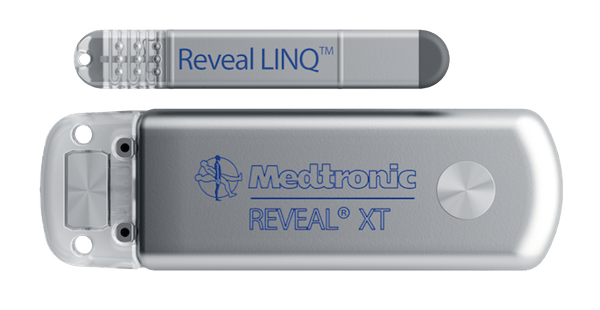 Medtronic's new Reveal LINQ Insertable Cardiac Monitor is a tiny implantable device that weighs less than three grams and is far less invasive than any previous loop recorder.  The figure above shows its diminutive size compared to the Reveal XT device – it is a full 87% smaller!
 The Reveal LINQ is a leadless device that is implanted in the region of the thorax by way of a <1cm incision. Two electrodes on the body of the device continuously monitor the patient's subcutaneous ECG. The device stores ECG recordings from the patient-activated episodes and ECG recordings from automatically detected arrhythmias.
 Reveal LINQ stores a total of 57 minutes of ECG, including 27 minutes of automatically-detected episodes and up to 30 minutes of patient-activated recordings with 6.5–14 min. buffers.
The device connects wirelessly with Medtronic's MyCareLink™ Patient Monitor, making the Reveal LINQ ICM the only ICM to collect and trend data continuously and wirelessly.