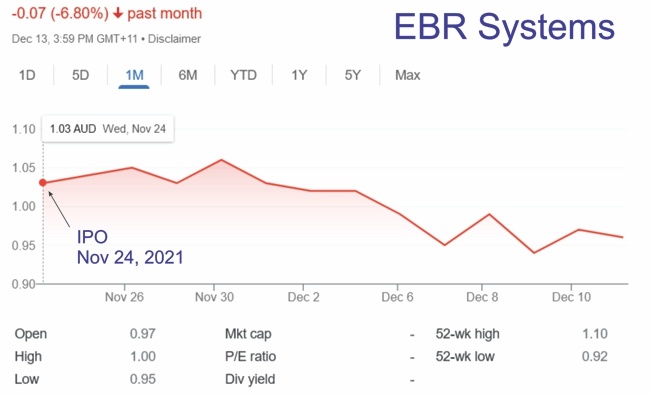 On November 24, 2021, EBR Systems went public in the Australian stock exchange.  According to the press release, the IPO raised AU$110M (around $78.5M).  EBR pland to use these funds to complete its pivotal study, targeting FDA submission for approval in 2023 followed by rapid U.S. commercial launch.
EBR Systems, Inc. was founded in 2003 and is headquartered in Sunnyvale, CA.  It developed the WiCS® Wireless Cardiac Stimulation technology to eliminate cardiac pacing leads, historically a major source of complications and reliability issues.
Current CRT pacemakers or defibrillators are implanted in patients with chronic heart failure requiring both the left and right ventricles to be paced. Such devices require the implantation of three leads into the heart, one of which involves painstakingly threading a lead through a difficult and complex route running from the right atrium of the heart, out of the heart and into the coronary sinus, a vasculature structure on the outside surface of the heart to the left ventricle. A pacemaker/defibrillator device is connected to the leads which are used to sense heart activity and to deliver electrical stimulation through electrodes at the end of the leads. The electrical stimulation applied to the right and to the left ventricles synchronizes the heart's contraction in a way that improves overall cardiac function in heart failure patients. However, added to the difficulty of the procedure itself is the chance of lead failure and infection.
WiCS overcomes these problems by leveraging advances in energy harvesting microelectronics. A very small leadless electrode, is implanted in the desired location within the left side of the heart. In its first generation, WiCS works in conjunction with a conventional pacemaker/defibrillator, sensing the electrical pacing pulse of the pacemaker from the right ventricle. The pulse generator then transmits an ultrasonic pulse to the implanted receiver, which converts the sonic energy into electrical energy to pace the left ventricle in synchronicity with the right. Not only does this reduce the need for the difficult and complicated surgery associated with CRT pacemakers, but by pacing inside the left ventricle it also better mimics the natural activation and mechanical contraction pattern of the heart.