MetaCure's TANTALUS II device is an advanced implantable electrical stimulator used to apply gastric stimulation. It works by enhancing the activity of gastric muscles only when the patient eats, which modifies hormone secretion, favorably affecting glucose and fat metabolism. At the same time, the stimulation causes the patient to feel satiated sooner and consume less food. The result is an improvement in blood glucose levels, which is often accompanied by weight loss, and reduction of blood pressure, waist circumference and blood lipid level. The TANTALUS II System is connected to the stomach via three leads.
The IPG automatically senses when the patient eats, starting stimulation of the stomach's antrum. The rate of the stimulation is dictated by the patient's natural gastric activity, this makes treatment using the TANTALUS II System personalized to each patient's specific eating habits and physiology, without causing anatomical changes, and without hassle to the patient.
Non-invasive recharging of the battery in the TANTALUS™ II IPG is done through transcutaneous energy transfer from a portable charger. A patient activation wand allows the patient to supplement automatic therapy delivery.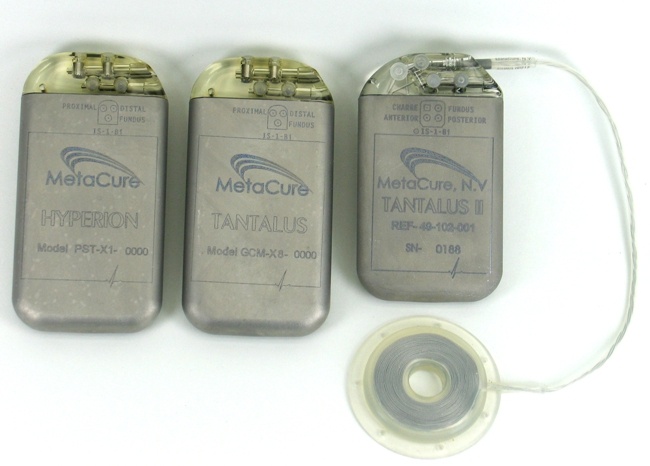 The non-rechargeable HYPERION™ and TANTALUS™ IPGs preceded the development of the TANTALUS™ II rechargeable IPG.
IMPORTANT NOTE:  Please note that although I am employed by MetaCure, the purpose of this blog is in no way to promote or advertise the companies for which I work.  As such, for any and all inquiries regarding MetaCure or its products, please contact MetaCure directly through its webpage at: www.metacure.com
CAUTION – INVESTIGATIONAL DEVICE, LIMITED BY FEDERAL (OR UNITED STATES) LAW TO INVESTIGATIONAL USE.  PLEASE READ FULL DISCLAIMER ON SIDE COLUMN AND IN THE LEGAL SECTION OF THIS WEBSITE.