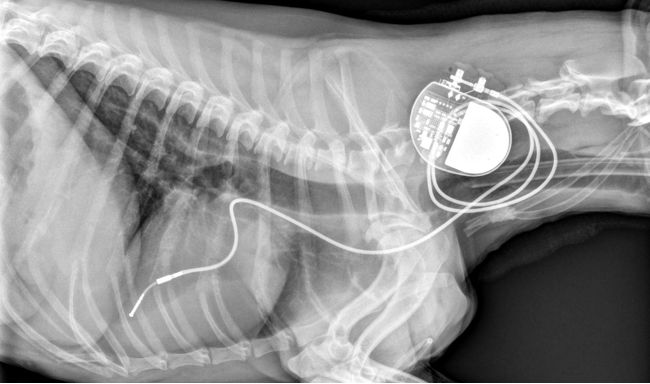 Pets are prone to the same type of electrophysiological anomalies as humans, and pacemakers are often implanted to resolve bradycardia.  Implants happen most commonly in dogs, but have also been used to treat cats and ferrets.
The dog breeds that most often have electrophysiological issues that can be treated with pacemakers are Miniature Schnauzers and West Highland White Terriers (typically for sick sinus syndrome), German Shepherds and Labrador Retrievers (typically for third degree AV block).
Human-use pacemakers (including resterilized devices explanted from patients who have passed away) are often used, but there are at least two brands of devices made specifically for veterinary use:
Dextronix is a Phoenix AZ privately-held company that sells affordable implantable medical devices for exclusive use in veterinary medicine. Their PetPacer pacemakers are manufactured by Biotronik under private label.  The system functions, features, performance and quality are identical to human pacemakers (Biotronik's Evia line).  Dextronix offers single-chamber and dual-chamber pacemakers, as well as a number of Biotronik's leads.  PetPacer pacemakers are programmed using a Biotronik ICS-3000 Programmer.
Infinity Medical is a company based in Redwood City CA that designs and distributes medical devices for the veterinary market. Their Lungavita™ pacemaker is a rate-responsive, multi-programmable, single-chamber device.  Infinity Medical doesn't say who manufactures the device, but it looks to me like a private-labeled Shree Pacetronix pacemaker made in India.  The programmer for the Lungavita is a PC connected to a programming wand.
From what I've read, veterinary pacemaker implants in the US typically cost in the vicinity of $4,500, and the patient must be kept strictly exercise-restricted for 4-6 weeks after the surgery to decrease risk of lead dislodgement.