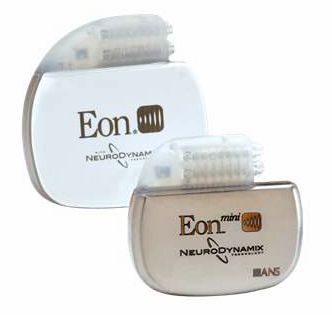 In 2005, St. Jude Medical purchased Advanced Neuromodulation Systems (ANS) in Plano, Texas.  ANS had developed a number of spinal cord stimulation IPGs that were either externally powered via inductive link, internally powered by a primary cell, or internally powered by a transcutaneously rechargeable lithium-ion cell.
Today, the most popular St. Jude spinal cord stimulators are the rechargeable 42 cc Eon and 18 cc Eon mini neurostimulators.
They are constant-current devices with a rated longevity of 10 years. Current through up to 16 electrodes is programmable between 0-25.5 mA with a pulse width of 50-500 µs and a frequency between 2-1200 Hz.
In Eon, the coil that receives transcutaneous energy for battery recharge is located outside of the IPG's titanium enclosure.  The coil is embedded within an elastomeric plate that is adhered to the titanium can.  In contrast, the enclosure of Eon mini is made of titanium 6-4 (Titanium Grade 5, also known as Ti6Al4V, Ti-6Al-4V) which allows the coil to be placed within the hermetic enclosure.  This is because Titanium 6-4 has much higher resistivity than pure titanium, which drastically lowers eddy currents induced by the recharge system on the can.  To minimize the losses caused by currents induced on the IPG's can, the frequency of the recharge signal  for Eon mini was set at 50 kHz.  This is in contrast to the 2 MHz recharge frequency of Eon.
St. Jude Medical's website is at:  www.sjm.com