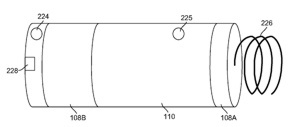 Nanostim is an early-stage AIMD company in Milpitas, CA that is developing a pacemaker that can be implanted inside the heart through a catheter.  The tiny device is attached directly to the heart, eliminating the need for leads.
In May 2011 Nanostim announced that St. Jude Medical had made a substantial investment in the company.
The company is operating in stealth mode, but some details about the leadless pacemaker have emerged from Nanostim's patents and patent applications.  An interesting detail is about the possible use of a betavoltaic power source:
"A suitable primary battery has an energy density of at least 3 W·hlcc, a power output of 70 microwatts, a volume less than 1 cubic centimeter, and a lifetime greater than 5 years.
One suitable primary battery uses beta-voltaic technology, licensed to BetaBatt Inc. of Houston, Tex., USA, and developed under a trade name DEC™ Cell, in which a silicon wafer captures electrons emitted by a radioactive gas such as tritium. The wafer is etched in a three-dimensional surface to capture more electrons. The battery is sealed in a hermetic package which entirely contains the low-energy particles emitted by tritium, rendering the battery safe for long-term human implant from a radiological-health standpoint. Tritium has a half-life of 12.3 years so that the technology is more than adequate to meet a design goal of a lifetime exceeding 5 years."
Medtronic also announced at TEDMED 2010 that it is working on leadless pacemakers.  In addition, EBR Systems Inc., based in Sunnyvale, CA, is developing a system that uses ultrasound waves to activate a tiny device in the heart that converts the acoustic energy into electricity.
The closest to an official company website is Nanostim's Linkedin profile.